This is a Sponsored post written by me on behalf of Walmart for SocialSpark. All opinions are 100% mine.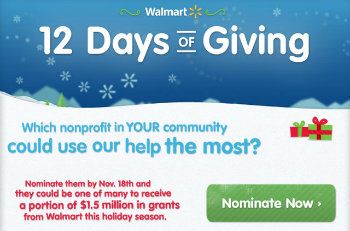 This holiday season, Walmart will be giving a total of $1.5 million in grants to benefit local communities across the country and provide basic need items like food, diapers, coats, baby formula, and other cold-weather clothing to those in need. 



During the 12 Days of Giving Americans will have an opportunity to voice which organizations they feel need support and deserve to win a portion of the $1.5 million in grants.
Between now and November 18, Americans can vote for local nonprofits on Facebook. On December 10, Walmart will start the "12 Days of Giving," by announcing funding to the winning nonprofits that were nominated on Facebook.
 Go on and vote for your local nonprofit!
I went to the Live Better application on Walmart's Facebook page and submitted a nomination for Share A Card, who send a message of encouragement to those suffering from serious illness and in need of cheer. This happens thru the mailing of greeting cards to those in need. They  make people feel better all year long!
 It was very easy to nominate my local non profit and you can nominate yours too! You just need:
a) Nonprofit name
b) Nonprofit contact info
c) Nonprofit website
d) Photo (optional)
Isn't it so great that you have a chance to give back to those who help your community?! I am so glad I got to nominate a nonprofit so close to my heart! So let us know what nonprofit  you nominated!
Disclosure: This post contains affiliate link which continue to keep this site free. See my disclosure policy here
336x280 Ad