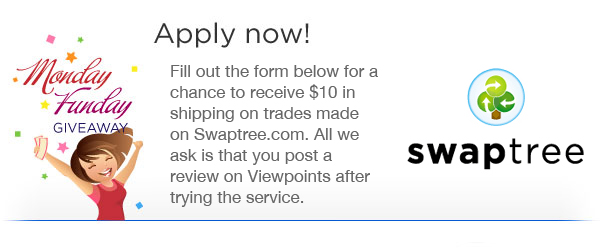 I am really excited to tell you guys about this giveaway through veiwpoints! First I need to tell you all about Swaptree!
Interested in free books, DVDs, CDs, or video games? Looking to trade the stuff you have for the things you want? Wondering what to do with the mountains of media you paid good money for that your children no longer play, read, watch or listen to? If so then sign up for Swaptree.com, the easiest way to swap the stuff you have, for the stuff you want for free.
Swaptree is an online trading service for books, movies, CDs, and video games. You simply list the items that you have and the items that you want, and Swaptree will instantly find you thousands of things you can swap for. There's no membership fee, no trading fee, and the only cost is shipping. So you can get any book, DVD, video game or CD for the cost of postage (around $2.50). Users can even print postage labels right from the site, so no time consuming trips to the post office.
Its really sweet way of getting new items and recycling your old! I was just telling my best friend about this service! The giveaway is only for 50 people, but veiwpoints has an offer right now, if you join Swaptree through this link, swaptree will pay for your first shipping label!
Go HERE to Enter! Entries for the $10 in free shipping will be open until Sunday, March 14 at 11:59 p.m. Fifty (50) winners will be chosen at random and contacted via e-mail. All winners' names will be posted on the Viewpoints blog next Monday, March 15. See all the details here!

Disclosure: This post contains affiliate link which continue to keep this site free. See my disclosure policy here