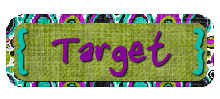 Here are Targets Corporate Coupon Policy and Price Matching Policy. Make sure to print both of these off and carry them with you whenever you shop at Target. Sometimes we will know more about Targets policies than the cashiers or even Managers!
Some Tips for Shopping at Target:
Target  has their own store coupons that can be combined with manufacturer coupons for even more savings! You can print these coupons from the Target site!
Make sure to always hand over all your manufacturer coupons first before Target store coupons, this will help the register to accept ALL your coupons and not "beep" at you!
Target has gift card promotions that may be weekly, monthly or could be longer than that. You can see these by either looking in the weekly ad (not always advertised) or for signs in-stores.  Usually you have to buy certain participating products and then you'll get a Target gift card when checking out. The Cashier will be prompted by the register to give you a gift card. You won't be able to use the gift card on that purchase, but you can use the gift card on future purchases, like your next order!
Make sure you look for coupons hanging on products, peelie on products or tear pad of coupons. I have found numerous Target coupons like this, and was able to "stack" them with manufacturer coupons for great deals!
If a coupon has the Target logo on it, then it is a target coupon. But now Target puts out "manufacturer" coupons, with their logo in the background…they are suppose to be accepted anywhere, but alot of stores are leary of accepting a coupon with another store's logo on it, so be careful when printing/using these.
336x280 Ad